International Arbitration
– How We Support Hearings
Our professionals learned by supporting thousands of U.S. litigations in the highly demanding advocacy support role. We provide neutral support with the same level of expertise and dedicated service, taking full responsibility for presenting evidence in the hearing room, alleviating counsel of those concerns so they can focus on their case.
With offices around the world, we have professionals in most major business centers – people familiar with local resources and able to fulfill logistical needs. We're adept at adhering to local business practices, currencies, etc. – making it easy to work together.
The Details – Before the Proceeding
Evidence Management & Review
You can use your own tools or FTI Consulting's free, simple, cloud-based system, accessed through the same secure portal used by remote participants to the hearing.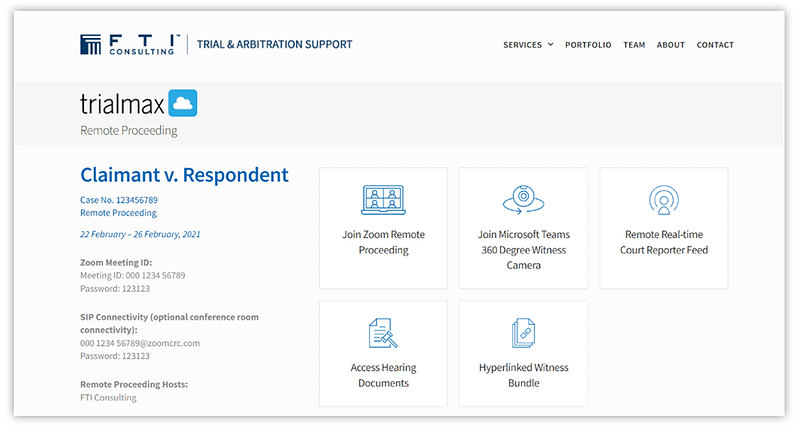 Lexel® Evidence Management & Review
If you need FTI Consulting to provide a more robust solution, we offer integrated access to the Lexel® evidence management and review platform. Lexel® allows your team to prepare all of the evidence, transcripts and video, using a modern, intuitive interface to issue-tag, make notes, create hyperlinks, and efficiently collaborate, with granular access control in the weeks and months leading up to your hearing.
The Details – At the Proceeding
Imagine Presenting Evidence in a Way That Makes Sense
When it's time for the proceeding, FTI Consulting can deliver top-tier court reporting with integrated real-time, allowing a single interface for the legal team that includes searchable access of each day's transcript.
Our electronic presentation of evidence sets FTI Consulting apart. Our counsel-friendly approach grew from our long history in U.S. litigation, where boundless service and accommodating the needs of each legal team has long been the norm.
We do not impose an outside naming convention on the evidence.
We thoroughly prepare in advance of each day in court to be familiar with the day's evidence and follow your presentation plan.
Our professional presentation consultants follow along, displaying documents to best lend meaning to testimony. This is especially important when displaying foreign-language documents and supporting non-native speakers.
Engage our evidence presentation independently or as part of a complete solution.
Tie elements together to give meaning to the evidence on display
Accommodate multilingual hearings and witnesses
Onsite, Remote or Hybrid Hearings
We are experts at supporting any mix of onsite and remote participants, including the option to livestream to a broader audience.
We can provide access to digital evidence, equipment and technical support at whatever level is needed.
Optional Remote Equipment Kit: a small, secure laptop with two external monitors.
360° Room Monitoring Camera can be added to monitor a witness and their environment during testimony. Upon approval, this video feed can be accessed by counsel or recorded to preserve the testimony.
Remote technical support: our team can maintain remote control, before and during the proceeding, to ensure security and fast troubleshooting.